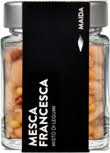 Mescafrancesca (legumes mixture)
ingredients: beans (of Controne, cannellino, a formella, tondino of Villaricca, tabacchino), cicerchie (grass peas), lentils, chickpeas, chestnuts of Roccadaspide, bianculedda wheat, farro of Cilento.
suggestions: The product does not contain color and flavor additives, or preservatives. Store in a cool and dry place, do not expose to direct sunlight, refrigerate after opening and use within one week .
sizes:

330g